My name is Wayne E.
I live in Baileyton, TN, which is located in Greene County. I am one hour North of Knoxville, and 45 mins. South of Bristol. I came to know Granny through my Grandfather, who has owned her for the last 15+ years. He was in the showhorse business for as long as I can remember. He always wanted me to ride, but I never would, until a couple of years ago. He and Granny had been retired from showing for a few years, and I had been riding a little on the weekends, just for fun. Then I got this wild idea. I asked him one day if I could get her ready and show her. Well, after telling me several times that I would fall off, he finally gave in. I had never ridden in a show before, and I guess he was skeptical. Well, we went that Sat. night, and we've been at it ever since! And I didn't fall off!
I work my horses in my spare time, mostly in the afternoons. Other than Granny, I have a young walking bred horse that I think might make a good speed prospect.

I go to a show most every weekend in the summer, mostly in the East TN area. I do try to show in Asheville every chance I get, also. You may find Granny and me anywhere there is a speed class, though!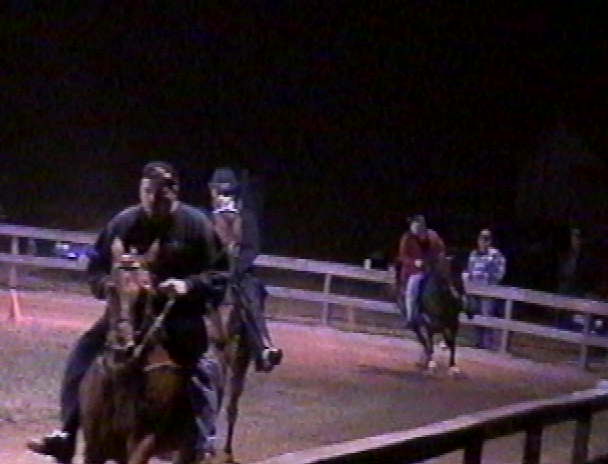 GO, GRANNY, GO!
Here is me and Granny in action. This was a fun show at
Pineville.(That explains the street clothes!) Still, there was plenty of action!